Obstacle Courses
for Rent
If you're looking for an Obstacle course rental in Salem or surrounding areas, you've come to the right place, the best bounce house rentals in Salem, OR. Here is the perfect solution for large events, church groups, and anywhere you want to bring your guests together in the spirit of fun and friendly competition. Obstacle course inflatables can provide more interaction and can be fun for kids to race against one another and to spend lots of energy.
Professional delivery to
Salem, OR, Albany, OR, Dallas, OR, Turner, OR, Woodburn, OR, Independence, OR, Stayton, OR, Aumsville, OR, Silverton, OR, Millersburg, OR, Mount Angel, OR, Gervais, OR, St Paul, OR, Canby, OR, Wilsonville, OR, Monmouth, OR
and surrounding areas. Please submit a quote or contact us to be sure we service your area.

Obstacle courses function like bounce houses but with more interactions for the kids. They are often great for teens to race each other through the course to determine who is the fastest.
Our Interactive inflatable Obstacle Courses are made of tough materials with particular attention to reinforcement seams for extra durability. Your guests are sure to have endless hours of twists, turns, climbs, and slides ! Our games are also known as Obstacle Courses. These are truly 'Crowd pleasers' and lots of fun for all Ages.
The inflatable obstacle course is entertaining and instructive. It can also be used to teach children to be more social with others. Inflatable obstacle courses can be utilized indoors to get children to participate in various activities. The inflatable obstacle course comes in various sizes and shapes in order for children to race each other, jump through the hoops and push the obstacles. It's great to have fun with your kids.
There are various sizes of inflatable obstacle course that are available in a variety of shapes and colors. The colorful structure attracts the children and can make your party a hit. There are two kinds of inflatable obstacle courses. There is one that is 35 feet and the other a larger one that is 40 feet and 65 feet. In the majority of inflatable obstacle course two children are able to compete together and pass the various barriers.
You can climb or push through, crawl through, race, or even slide through the inflatable obstacle castle with a height of 65 feet.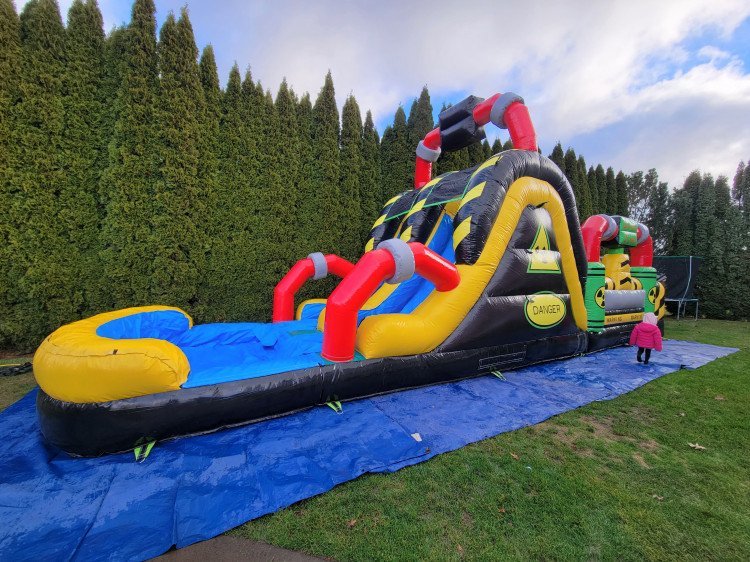 40ft long Toxic rush obstacle course
from $475.00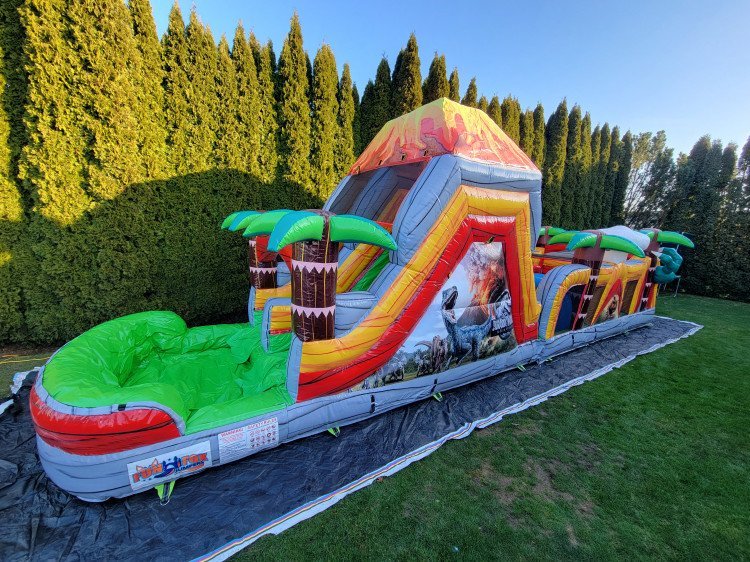 40ft Prehistoric dinosaur scape
from $545.00
40ft tropical slides
from $450.00