If you're looking for a Water Slide Rental in Salem or surrounding areas, you've come to the right place, the best bounce house rentals in Salem, OR. Inflatable water slides are fantastic for getting some energy out and have kids happy & entertained. You can also rent combo bouncers that include the basketball hoop or slide. We are a specialist in bounce house rental and are happy to accommodate the needs of your event.
Professional delivery to
Salem, OR, Albany, OR, Dallas, OR, Turner, OR, Woodburn, OR, Independence, OR, Stayton, OR, Aumsville, OR, Silverton, OR, Millersburg, OR, Mount Angel, OR, Gervais, OR, St Paul, OR, Canby, OR, Wilsonville, OR, Monmouth, OR
and surrounding areas. Please submit a quote or contact us to be sure we service your area.
Water slides that are available for rental are great fun. They are fast-moving and cool you down quickly. Kids will be lining up around the corner to get the chance to ride down these massive, exciting, colorful slides. The rental of a water slide requires electricity and a water hook-up. The hose and cord can be provided and to the location within 50 feet.
There are a variety of options for large and small water slides. Pick the appropriate one for your child's age and the number of guests. The majority of slides can accommodate up to 10-20 people, provided you are prepared to wait for a bit. Smaller children may be a little fearful of the tall slides However, all slides at our park are safe for everyone because they feature edge walls, and many of them feature a net at the top to deter curious children from climbing onto the their top.
Our slides will be secured using stakes or sandbags, so they are safe and secure even in light winds.
We are sure that regardless of the water slide you lease from us, you'll be satisfied and want to rent from us again!
T-rex castle
from $295.00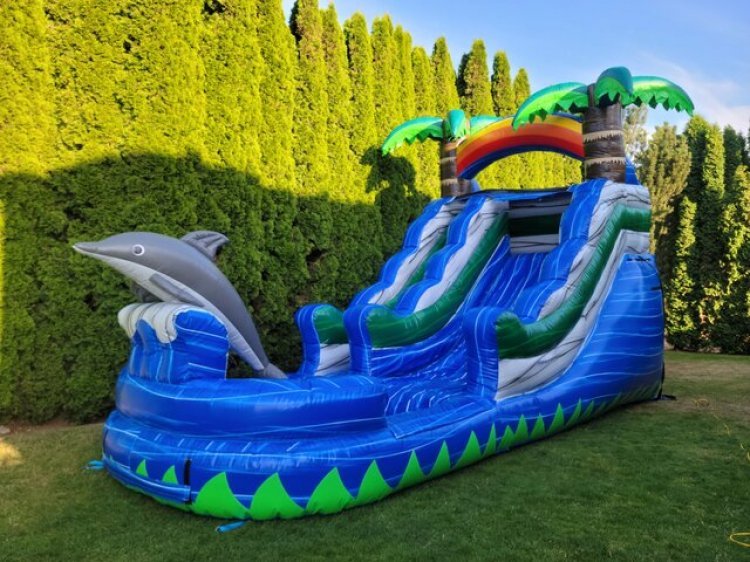 13ft Dolphin water slide
from $265.00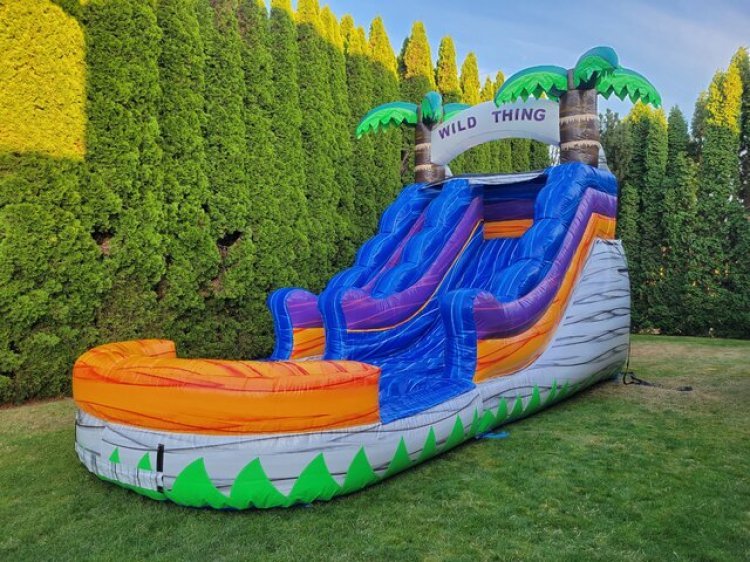 13ft Wild thing water slide
from $265.00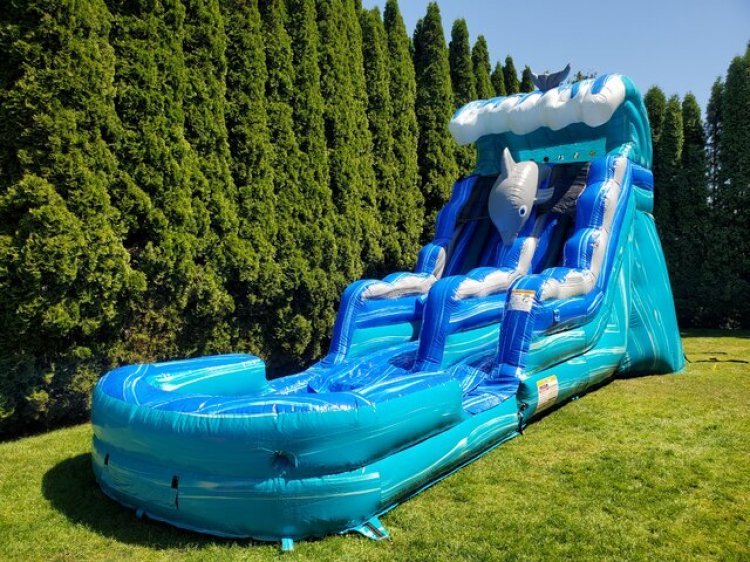 15ft Dolphin water slide
from $325.00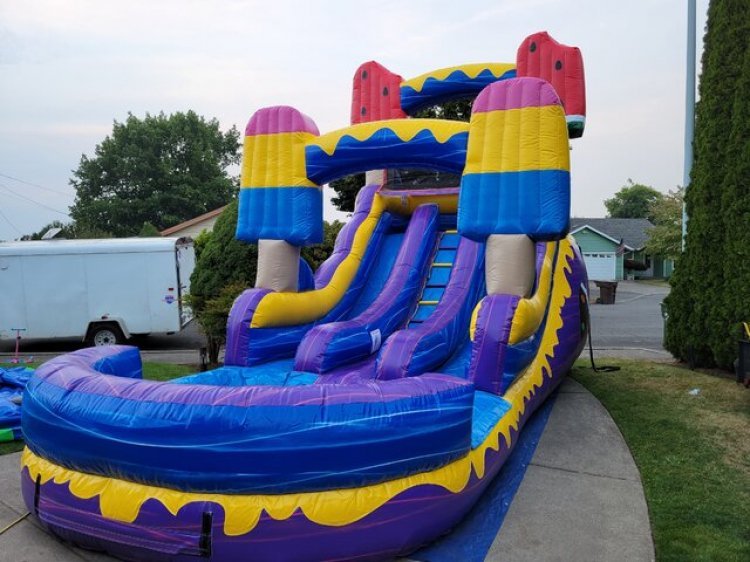 15ft ice pops Water Slide
from $345.00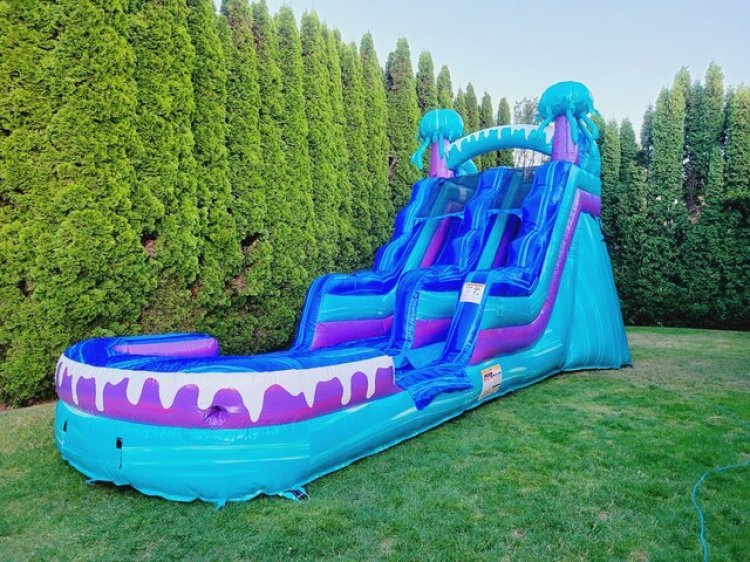 15ft Jellyfish water slide
from $325.00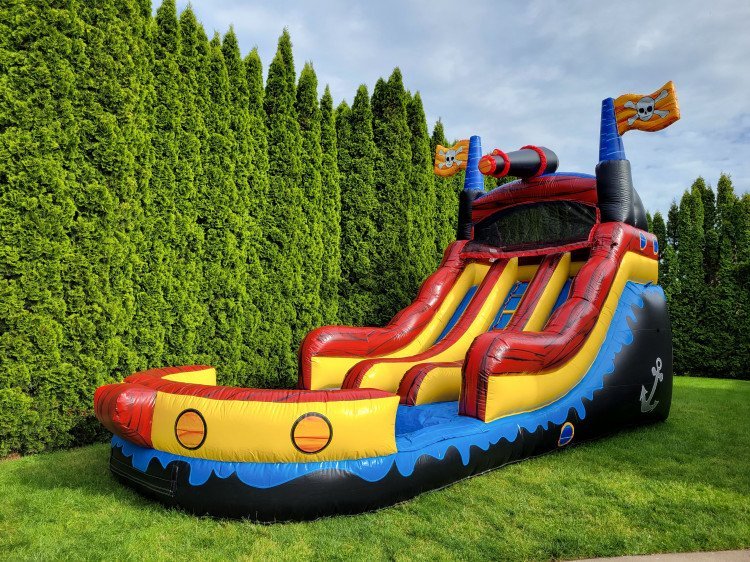 15ft Pirate Water Slide
from $345.00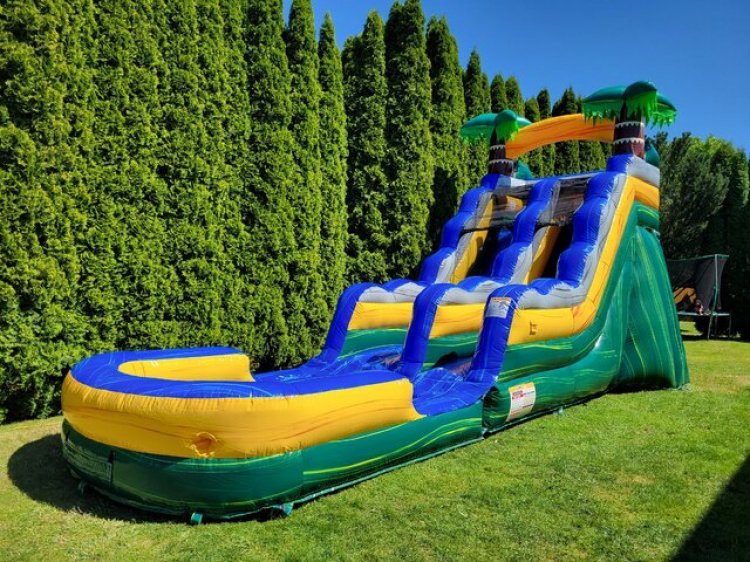 15ft Tropical splash water slide
from $325.00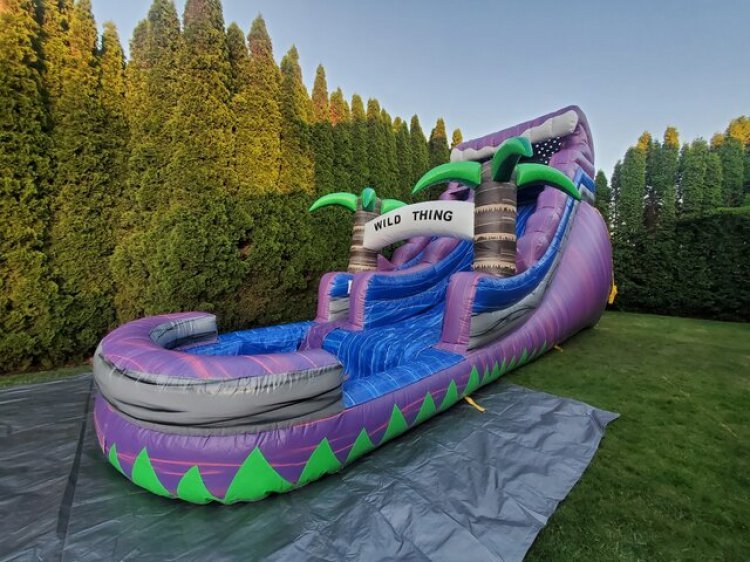 19ft Tropical wild thing water slide
from $450.00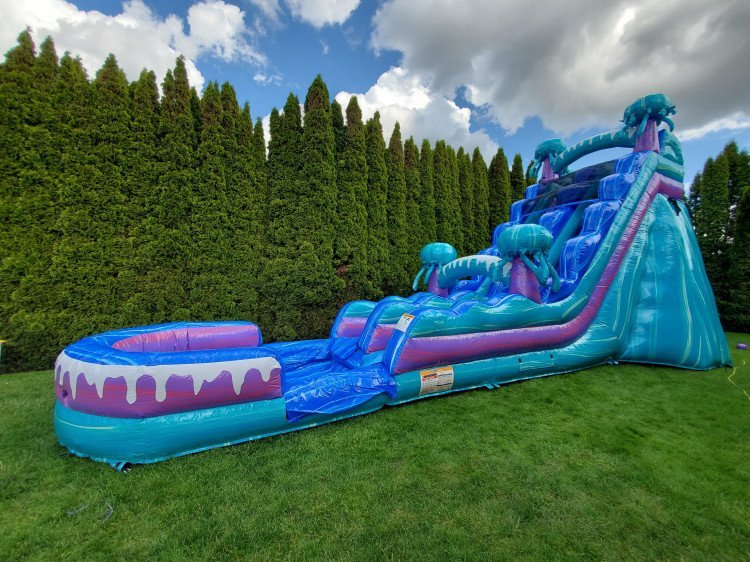 20ft jellyfish
from $450.00
20FT Dolphins wave water slide
from $450.00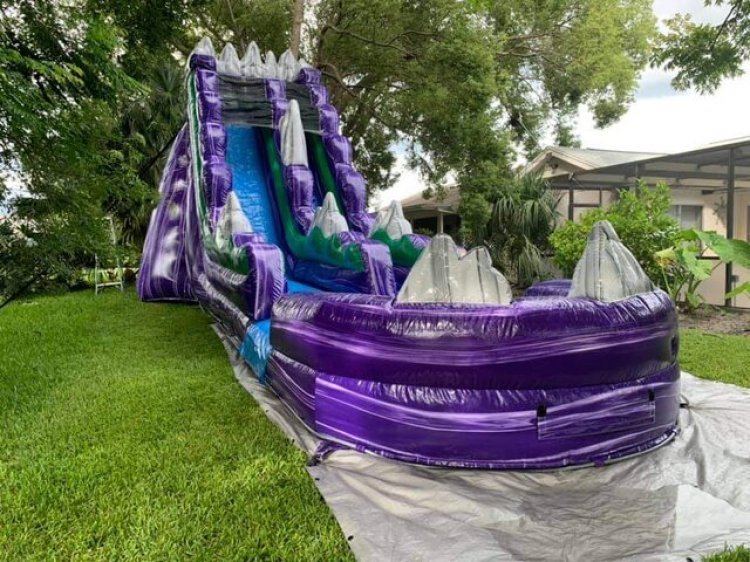 20FT high mountain water slide
from $450.00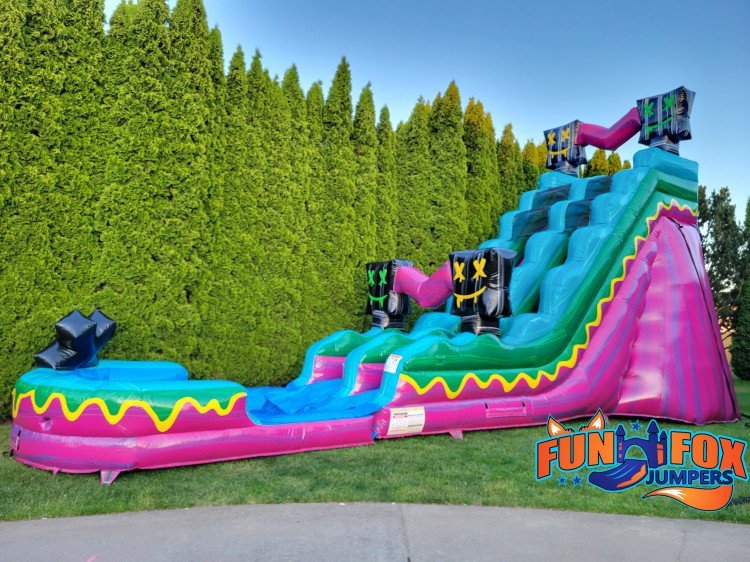 20ft Level up Water Slide
from $450.00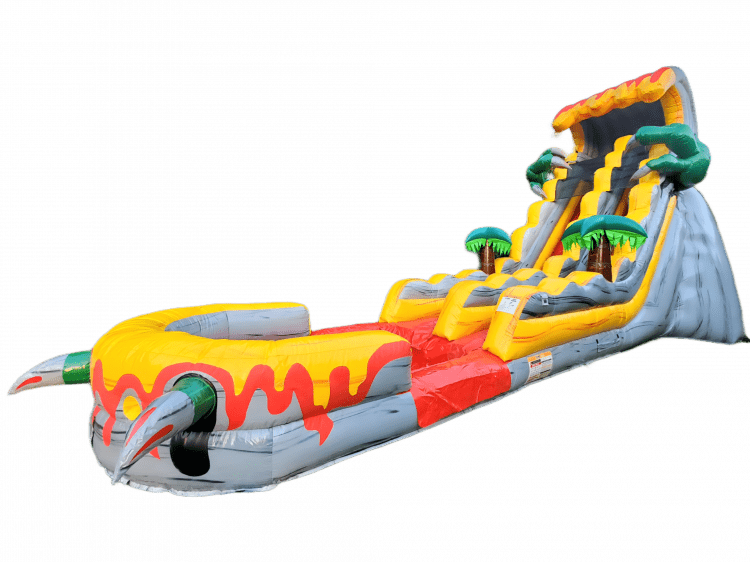 20ft T-rex water slide
from $450.00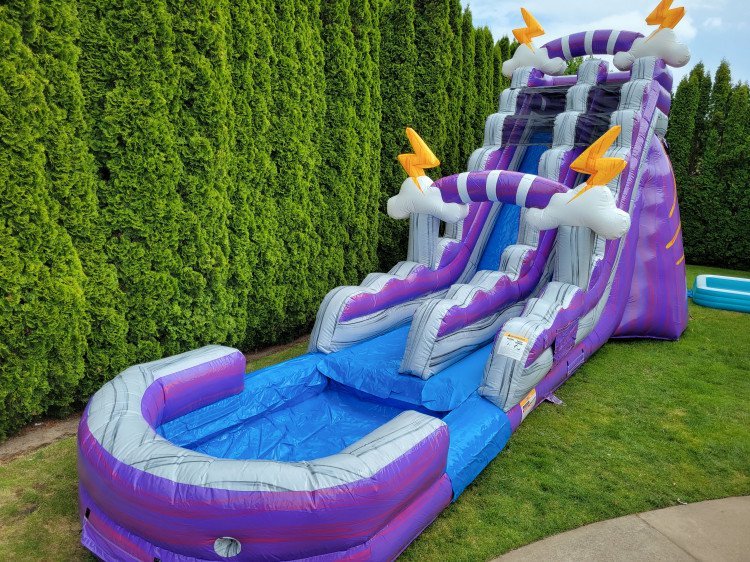 20ft thunder water slide
from $450.00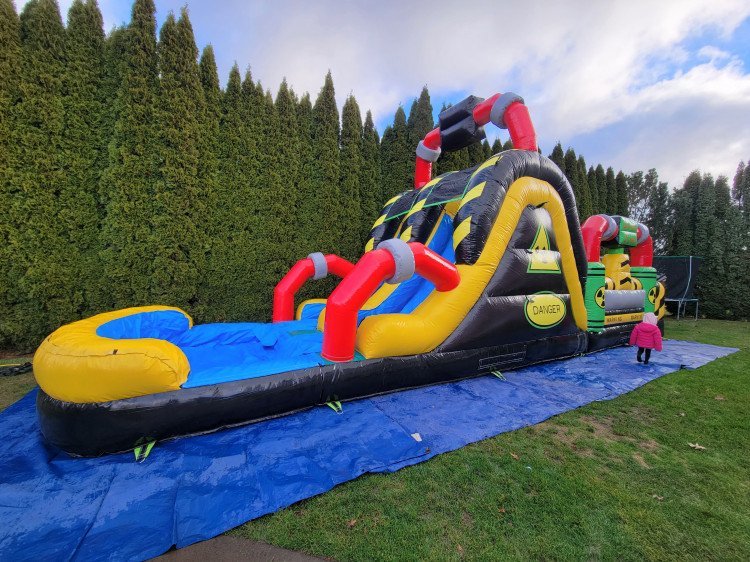 40ft long Toxic rush obstacle course
from $475.00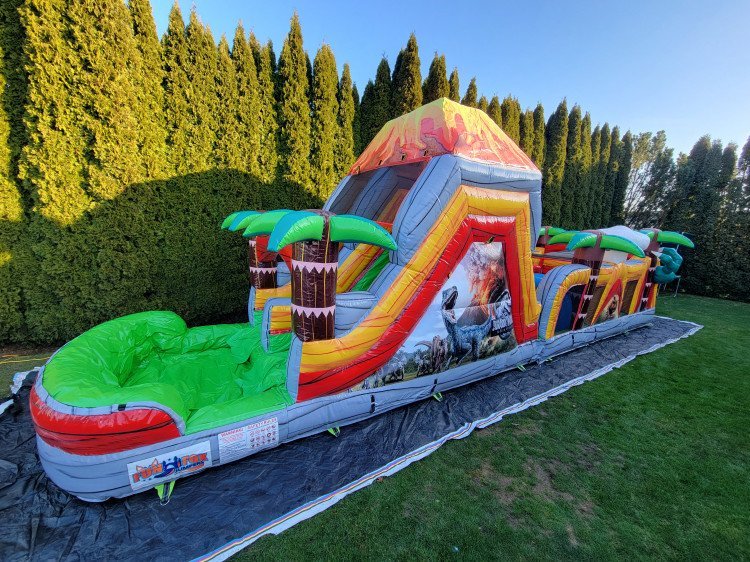 40ft Prehistoric dinosaur scape
from $545.00
40ft tropical slides
from $450.00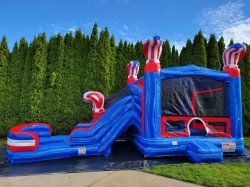 American Boxing bounce house
from $295.00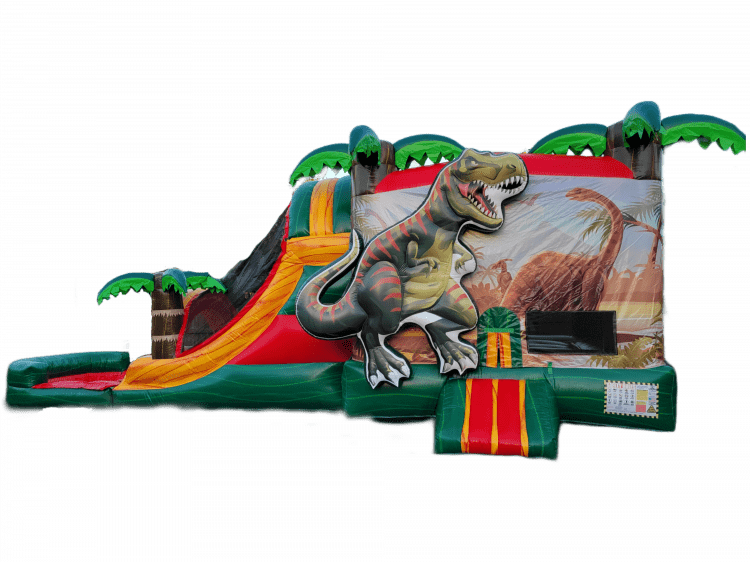 BIG Dinosaur water slide
from $350.00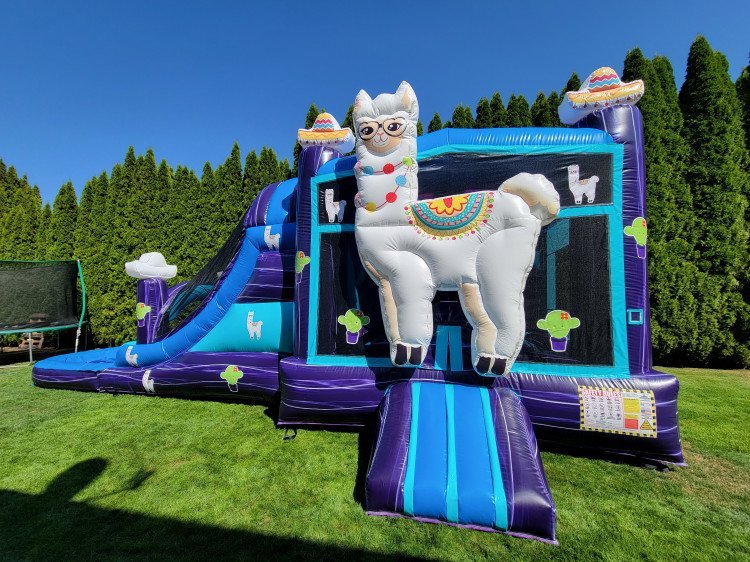 BIG llama / alpaca dual water slide
from $350.00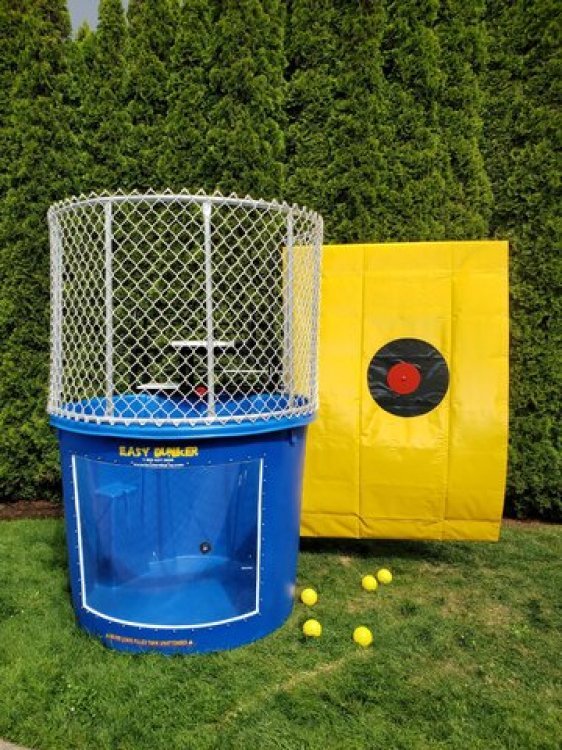 Meltic Artic water slide
from $295.00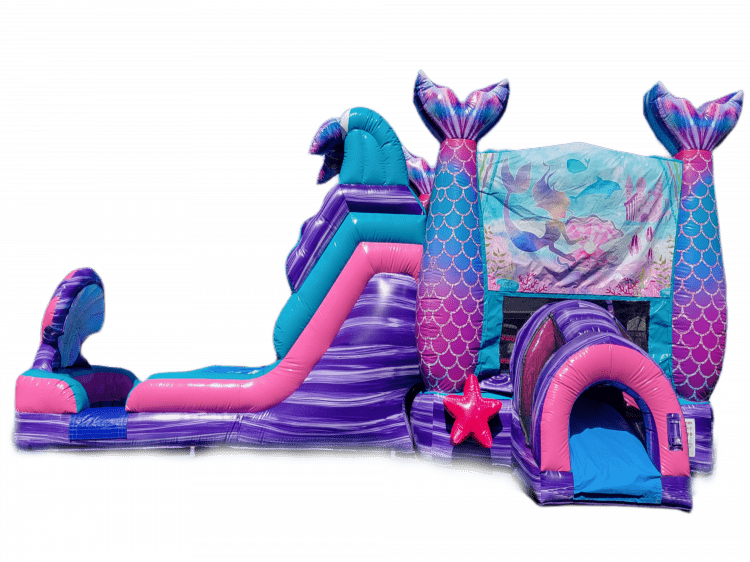 Mermaid Bounce House water slide
from $350.00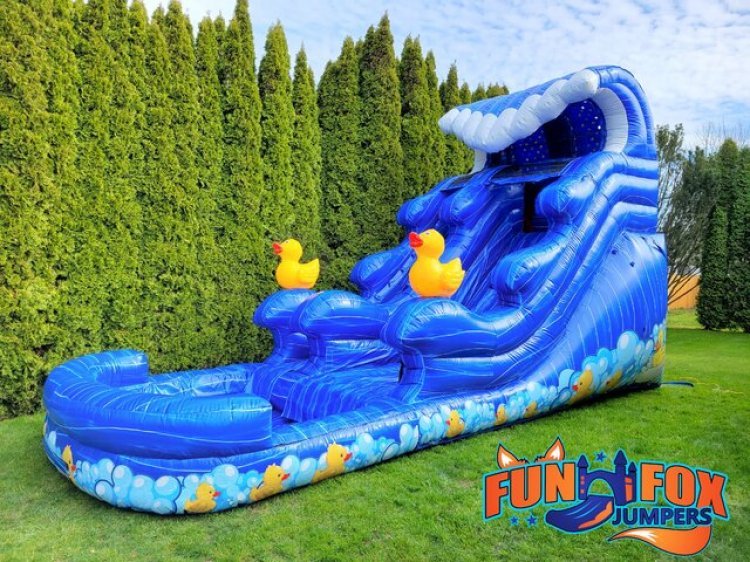 New 17ft Ducks water slide
from $350.00
NEW magical unicorn water slide
from $350.00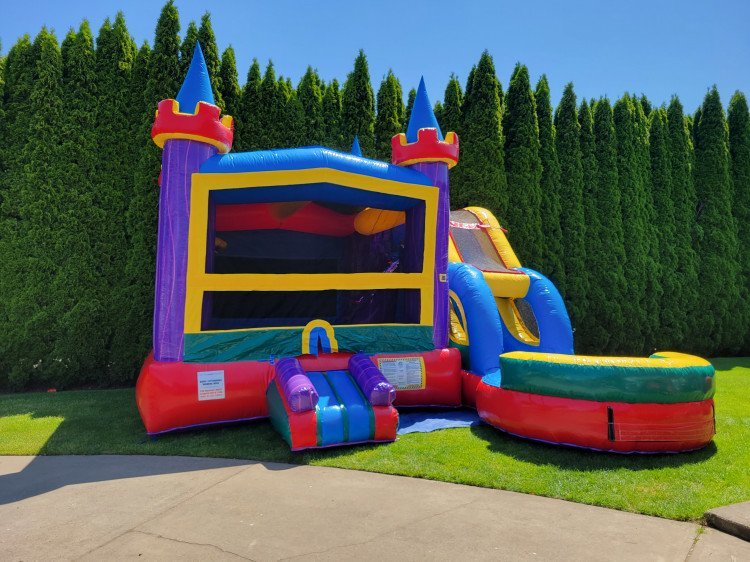 NEW Modular Bounce House
from $350.00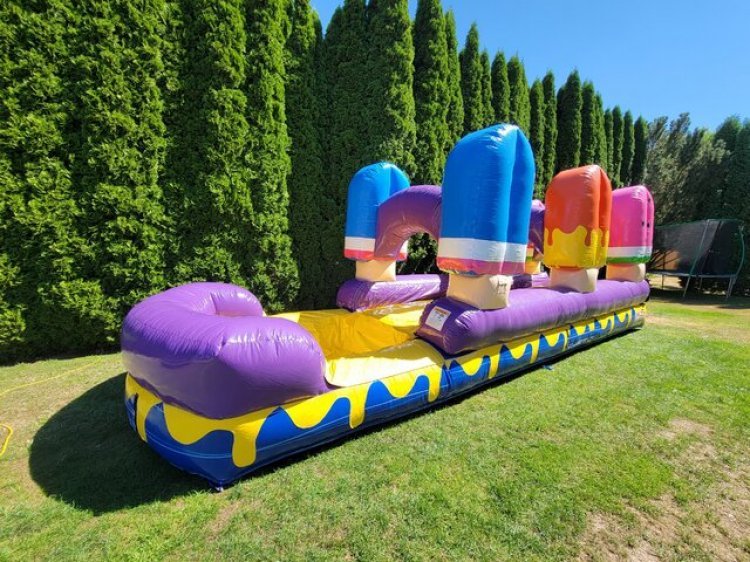 Popsickle slip and slide
from $225.00
Purplish combo Water Slide
from $295.00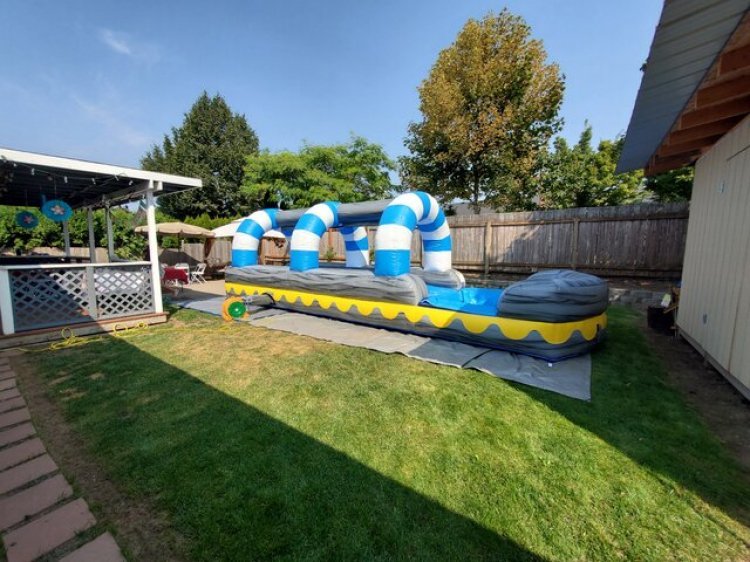 Skyline slip and slide
from $175.00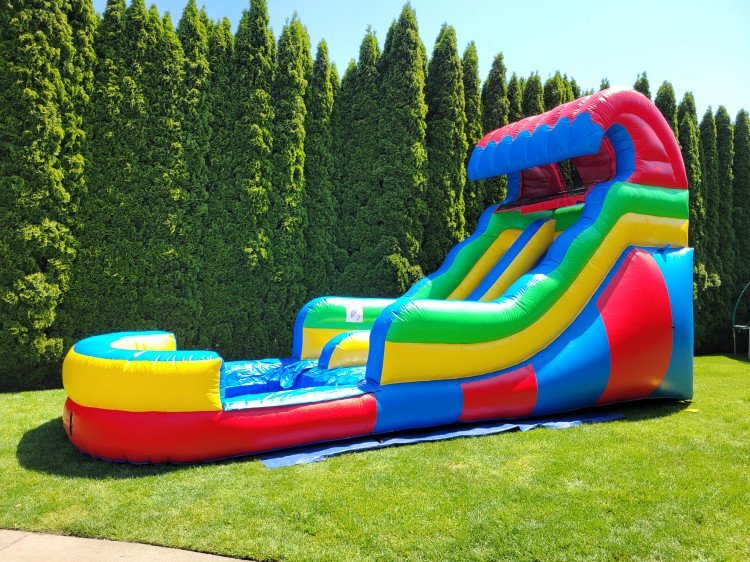 The fiesta slide
from $295.00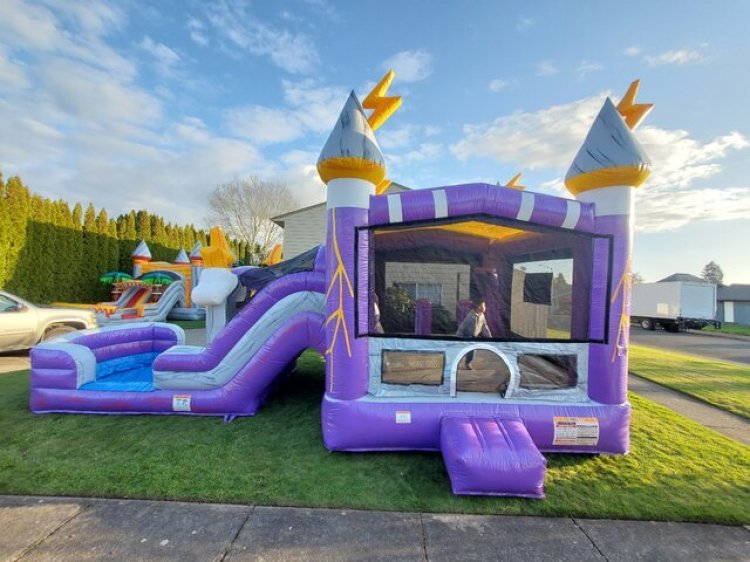 Thunder bounce house water slide
from $295.00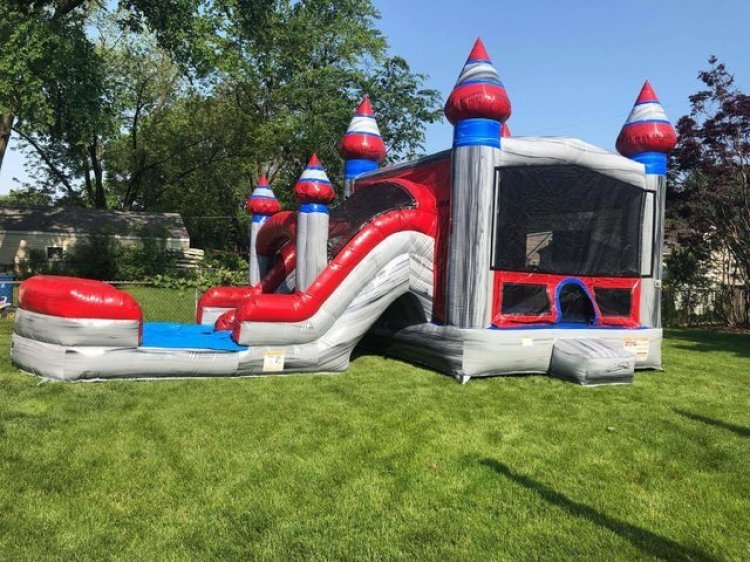 Titanium water slide
from $295.00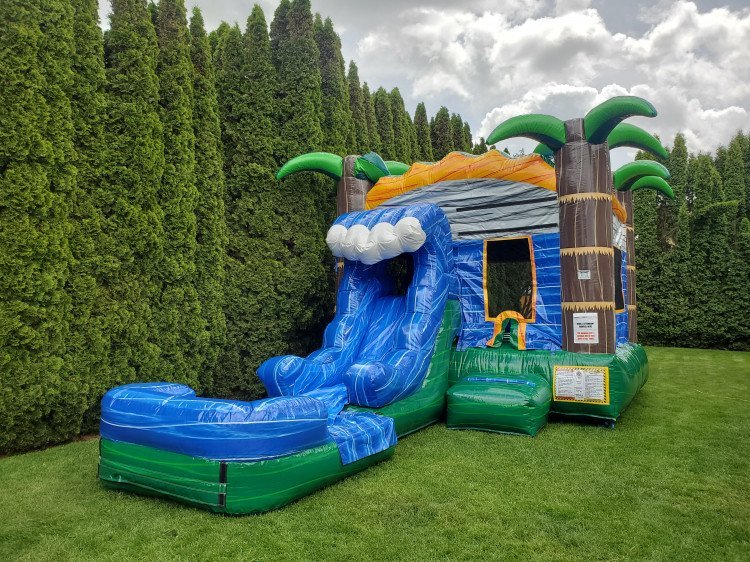 Tropical wave water slide
from $275.00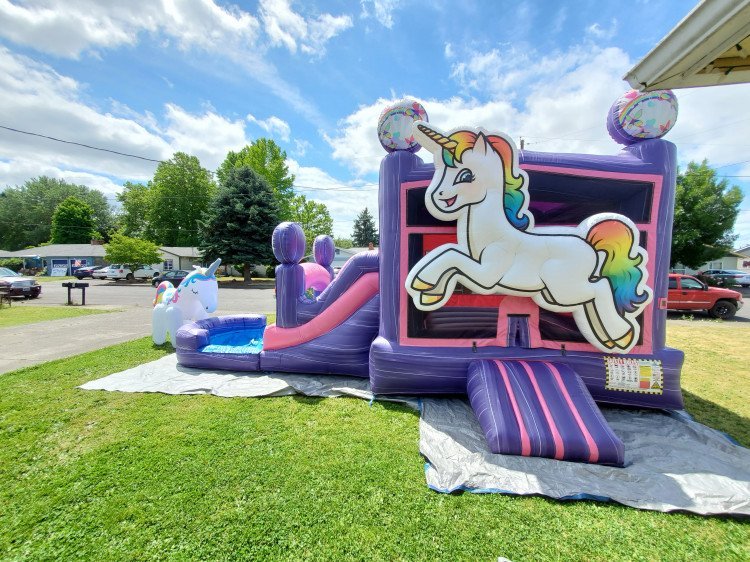 Unicorn Combo water slide
from $275.00
Zombie bounce house
from $350.00